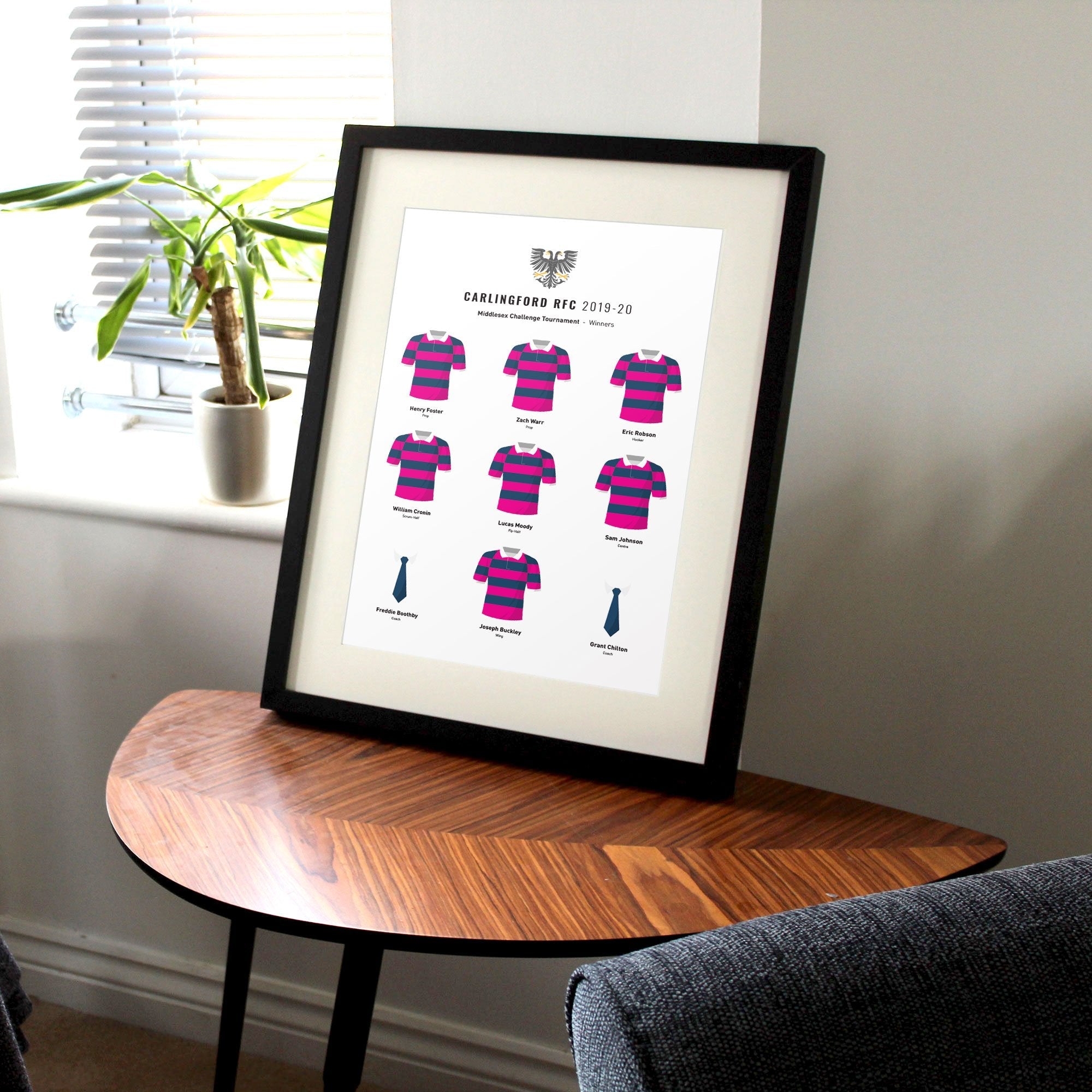 CREATE Your Custom Amateur Sports Team Print
Amateur teams are the heart and soul of the sporting landscape, from the untapped talent in regional Football divisions to the local Rugby heroes playing because they just love it, sport brings people together. It's an amazing time for any player no matter what level they are playing at and what better way to capture this than with your very own custom team print.
From Semi-Pro Football clubs and amateur Rugby sides to local Cricket orders, we really can design any team, you tell us the line up and we will print and frame it for you. It might be the Hartlebourgh United's squad for the upcoming season, last years Dalton District cup winning side or to commemorate someone first ever appearance from 2011, it's up to you, we will do everything we can to give you the print you want.
Hockey, Darts, Basketball, Volleyball, Baseball, American Football, any team sports, just let us know!
It would look great in the dressing room, club house, behind the bar or make a quality gift for someone involved in the team!
It's really easy:
1. In the boxes, please enter the team name e.g."Fulchester Rovers 2022/23" and in the next, the names and positions of the players in your team line up. Please be sure to include coaches names.
In the next box, please provide a description of the players kit designs - colours, patterns etc. (including goalkeeper if it's different). If it's to celebrate a certain game such as a Cup win or a League Championship please include details about this here too.
The more information and detail you can give us, the more accurate our design can be and the better the print! - Feel free to include links to kit designs or email over images of the kits and badge to us.
2. Choose whether you want your personalised print framed or not from the size selector.
3. Tick the box if you require a proof before we print
4. Choose your quantity
5. Add your print to cart & proceed to checkout.
6. Let us do the magic & wait for the postman... It won't be too long. We will be in touch if we require any more information or with a proof for you to approve before we print and dispatch your order.
What's the maximum number of players and coaches I can include?
We would recommend a maximum of 30 players and or coaches. However, we will try and accommodate for teams that are larger than this.
I have a team badge or pictures of the kit, can I send these to you?
You certainly can, email them over to us at contact@goodteamonpaper.com and we will work with them however we can.
How do you represent coaches on the print?
By default we will use black zip-up jackets but could use ties in club colours if you would prefer, just let us know!
For all other questions please check out our FAQs page.
Product Sizes:
A4 Unframed Print - 21cm x 30cm
A3 Unframed Print - 30cm x 42cm
A4 Black Framed Print - 31cm x 38.5cm (UK Only)
A4 White Framed Print - 31cm x 38.5cm (UK Only)
A3 Black Framed Print - 40cm x 50cm (UK Only)
A3 White Framed Print - 40cm x 50cm (UK Only)
Printed to order, on premium quality 290gsm pearl paper stock.
Frames come with ivory mount & clear perspex front protection.
Please note: We unfortunately cannot ship framed prints outside of the UK, for overseas orders please choose one of the unframed options.
Today we are offering FREE DELIVERY on all UK MAINLAND orders over £50. Please use the code FREEDELIVERY50 at checkout!
For UK orders please allow 4-6 working days for your product to arrive. Need it quicker? Express shipping is also available.
Not in the UK? Good news! We ship worldwide, our delivery prices and times are shown at checkout.
Please note, to provide added protection for overseas orders our packaging differs from the image shown. The buyer is also responsible for any import taxes and/or customs charges imposed by their country, if applicable.
Further information can be viewed via our Delivery Page
The artwork we produce is UNOFFICIAL and NOT AFFILIATED with any team or sporting organisation. We create for the love of the sport and for people who share our passion. If any of our listings are mistakenly found to be in breach of any trademarks or copyright we will make immediate amendments where needed to the exact specifications of the request.
Our Customers Rate Us
4.7 out of 5
"Wow, what can I say!!

From the first class customer service, getting my order to my door in a very tight time frame due to me leaving it late, to the customised junior football team print, which was absolutely top draw, I can not recommend it highly enough.

The attention to detail, getting the exact goalie kit and correct amount of stripes on the team shirts, and replicating the team badge is superb.

My sons football coach was gob smacked when he received it, and all the others players parents said how brilliant is was. Many thanks guys"
- Steve in Liecester