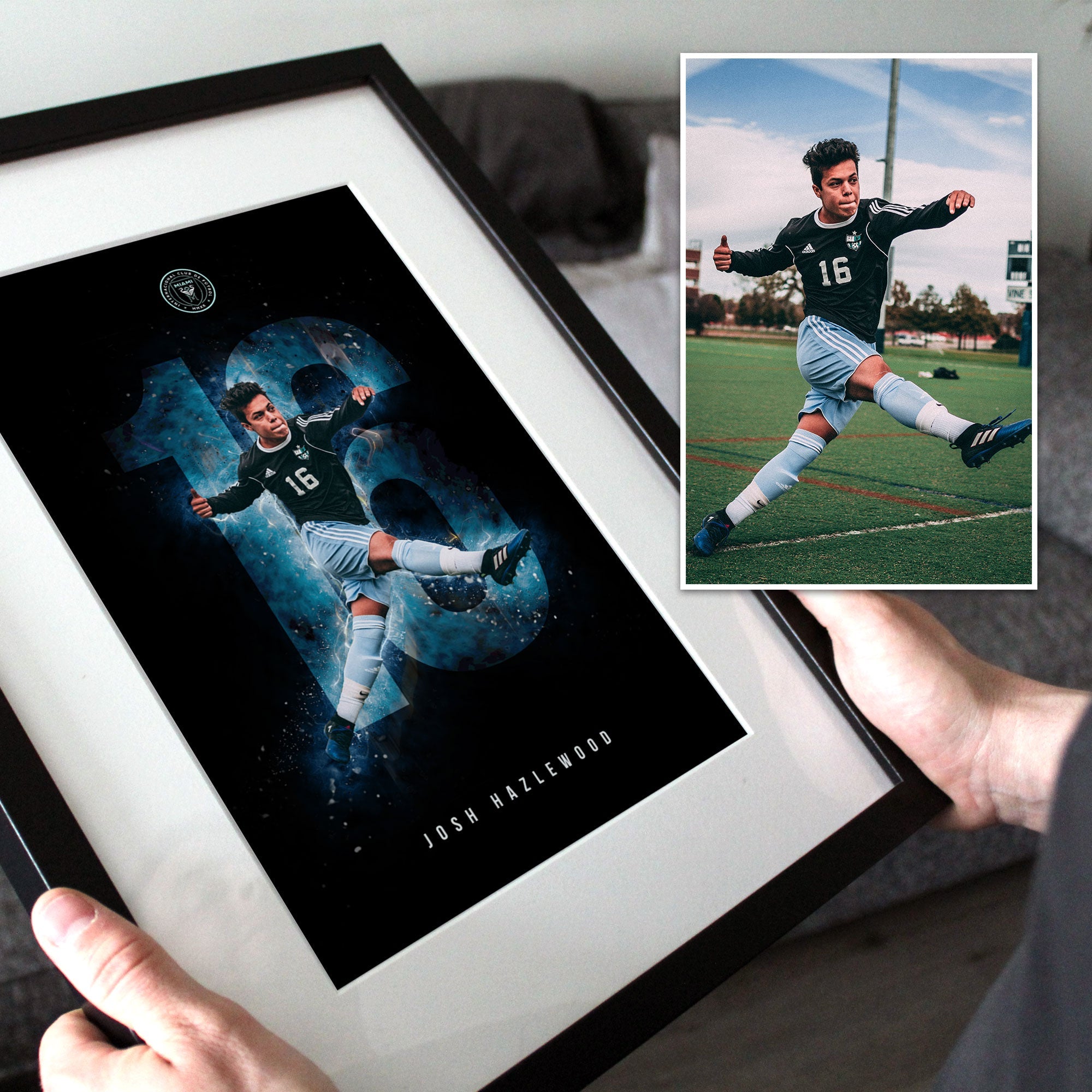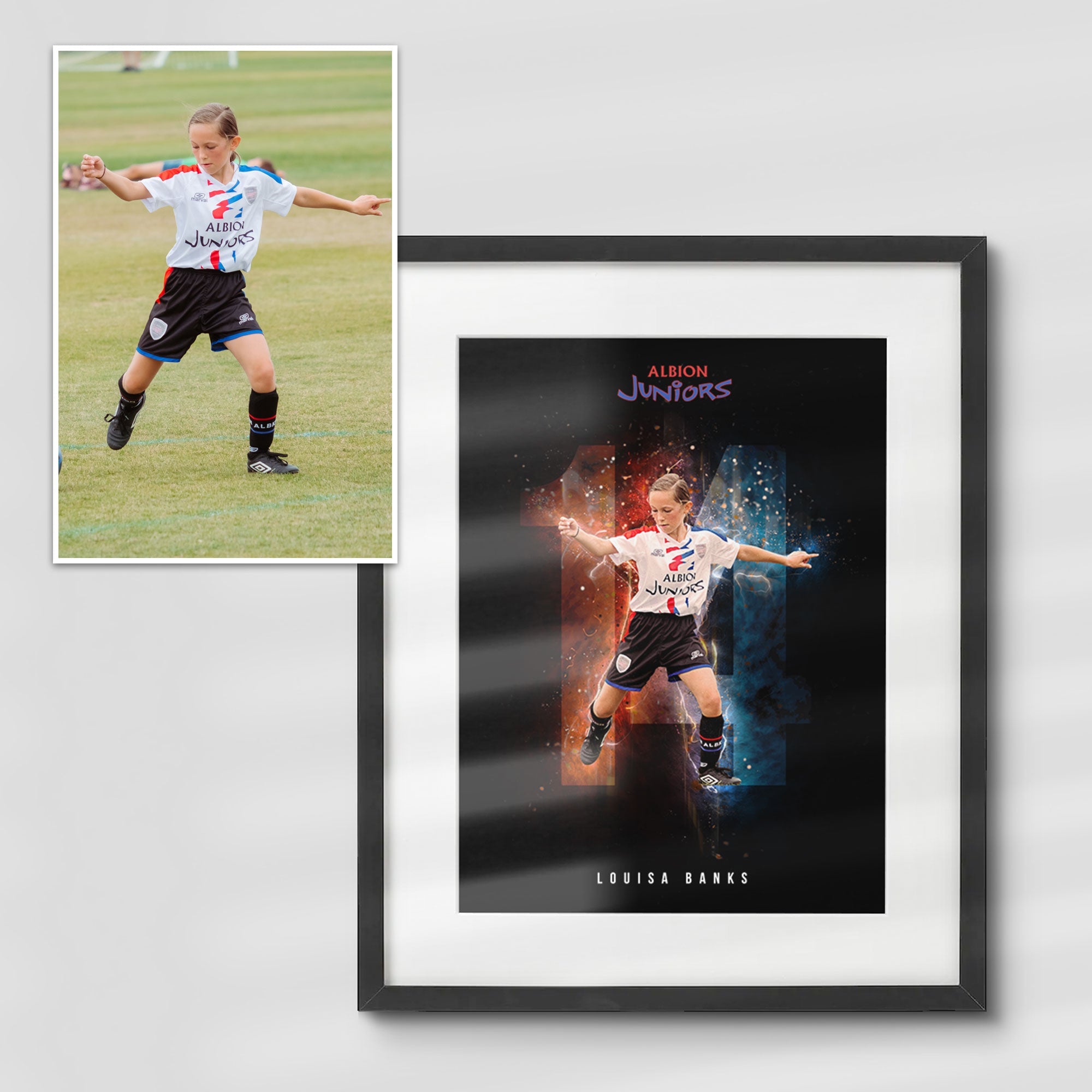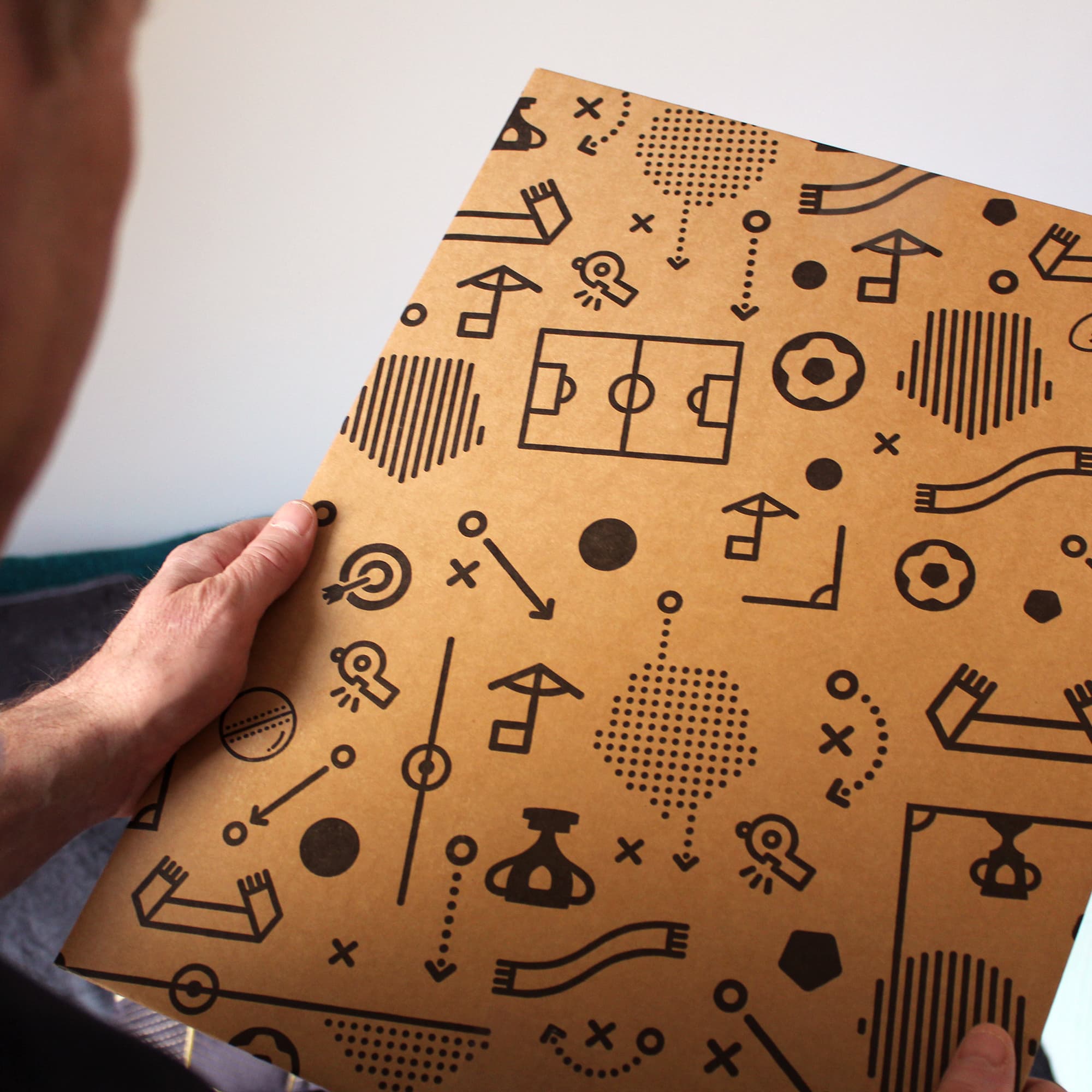 PERSONALISED Custom Junior Football Player Portrait Print
We would recommend 1500 x 1500px as a minimum size.
You can save 20% on this order when you join Club Hero - Learn More
Turn your favourite photos of sports team players in action into fully customised, personalised player portraits that feature their name, shirt number and team badge. Each piece will be individually customised by hand incorporating the team colours, to achieve the perfect finish and printed on to high quality premier pearl paper stock. Framing options are also available to add the finishing touch.
This print makes a fantastic gift for sports team players of any ages and would look great on their bedroom wall to capture the memory of their time playing.
It's really easy:
1. Enter the player name e.g. "Matthew Smith" and number e.g "16"
2. Upload a picture of the player (and team badge if available) you would like use for the artwork. It is important that the photo is as high quality as possible as this will reflect in the quality of the final printed piece.

Unfortunately blurry or pixelated photos can't be corrected.
3. Choose whether you want your personalised print framed or not from the size selector.
4. Tick the box if you require a proof before we print
5. Choose your quantity
6. Add your print to cart & proceed to checkout.
7. Let us do the magic & wait for the postman... It won't be too long. We will be in touch if we require any more information or with a proof for you to approve before we print and dispatch your order.
What size photos can you work with?

We would recommend no smaller than 1500px x 1500px photo. In this case, generally the higher resolution - the better!
Can you work with blurry or pixelated images?
Unfortunately, blur and pixelisation can't be fixed on images. Generally stills from video are not suitable. We can edit photos for better colour and lighting.
For all other questions please check out our FAQs page.
Product Sizes:
A4 Unframed Print - 21cm x 30cm
A3 Unframed Print - 30cm x 42cm
A4 Black Framed Print - 31cm x 38.5cm (UK Only)
A4 White Framed Print - 31cm x 38.5cm (UK Only)
A3 Black Framed Print - 40cm x 50cm (UK Only)
A3 White Framed Print - 40cm x 50cm (UK Only)
A5 Black Framed Print - 15cm x 20cm (UK Only) 
Printed to order, on premium quality 290gsm pearl paper stock.
Frames come with ivory mount & clear perspex front protection.
Please note: We unfortunately cannot ship framed prints outside of the UK, for overseas orders please choose one of the unframed options.
Today we are offering FREE DELIVERY on all UK MAINLAND orders over £50. Please use the code FREEDELIVERY50 at checkout!
For UK orders please allow 4-6 working days for your product to arrive. Need it quicker? Express shipping is also available.
Not in the UK? Good news! We ship worldwide, our delivery prices and times are shown at checkout.
Please note, to provide added protection for overseas orders our packaging differs from the image shown. The buyer is also responsible for any import taxes and/or customs charges imposed by their country, if applicable.
Further information can be viewed via our Delivery Page
The artwork we produce is UNOFFICIAL and NOT AFFILIATED with any team or sporting organisation. We create for the love of the sport and for people who share our passion. If any of our listings are mistakenly found to be in breach of any trademarks or copyright we will make immediate amendments where needed to the exact specifications of the request.
Save 20% and Sign Up To Be A
Club Hero
Did you know... you can claim back 20% of the total cost of your recent Junior Sports print orders? Are you also aware you can earn 20% from all future sales you, your friends or your family make?
If the answer is no, what are you waiting for? Sign up to be a 'Club Hero' today!
We are so confident when you show your Junior Sports print
to other parents, coaches, players or club officials they will want one
too, becoming a 'Club Hero' is a great way to raise funds for yourself and your team.
There's no strings, no catches, no commitment, more sales
simply equal the more given back to you and your club in withdrawable
cash
Our Customers Rate Us
4.7 out of 5
"Wow, wow, wow! I was blown away with the personalised Coventry City print. The patience shown by Good Team on Paper with the translation of my requirements to the finished print was very much appreciated. The quality and detail of the finished kit images in the print was amazing. Thank you so much for such a lovely print and for the memories of those Coventry City elite league years and my favourite players of that era it brings to me when I now look at the print. I can't thank you enough."