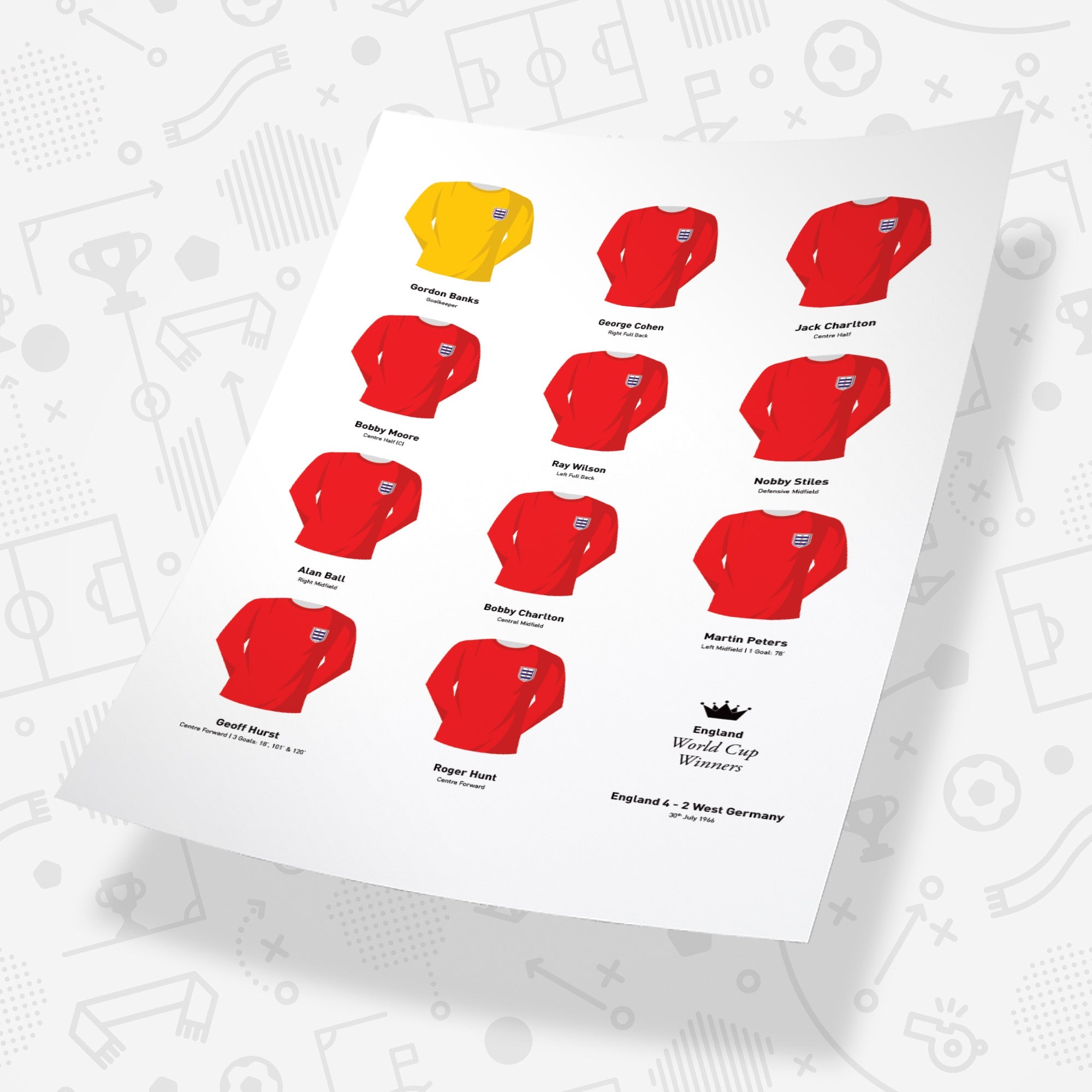 England 1966 World Cup Winners Football Team Print
"Some people are on the pitch, they think it's all over. It is now!"
England, who were appearing in their first World Cup final, felt pressure on their own soil. West Germany, winners of the trophy only 12 years previously, managed to salvage a draw in 90 minutes when Wolfgang Weber equalised. However, Geoff Hurst, in his prime, went on to complete his hat-rick in extra time, and give England a 4-2 victory.
This print, featuring all the legendary players involved, is the perfect way to celebrate this historic achievement either for yourself or as a very special gift for someone.
Each kit featured is represented by one of our very own digitally illustrated classic jerseys, exclusive to Good Team on Paper.
A4 Unframed Print - 21cm x 30cm
A3 Unframed Print - 30cm x 42cm
A4 Black Framed Print - 31cm x 38.5cm (UK Only)
A4 White Framed Print - 31cm x 38.5cm (UK Only)
A3 Black Framed Print - 40cm x 50cm (UK Only)
A3 White Framed Print - 40cm x 50cm (UK Only)
Printed to order, on premium quality 290gsm pearl paper stock.
Frames come with ivory mount & clear perspex front protection.
Please note: We unfortunately cannot ship framed prints outside of the UK, for overseas orders please choose one of the unframed options.
Today we are offering FREE DELIVERY on all UK MAINLAND orders over £50. Please use the code FREEDELIVERY50 at checkout!
For UK orders please allow 3-5 working days for your product to arrive. Need it quicker? Express shipping is also available.
Not in the UK? Good news! We ship worldwide, our delivery prices and times are shown at checkout.
Please note, to provide added protection for overseas orders our packaging differs from the image shown. The buyer is also responsible for any import taxes and/or customs charges imposed by their country, if applicable.
Further information can be viewed via our Delivery Page
For all other questions please check out our FAQs page
The artwork we produce is UNOFFICIAL and NOT AFFILIATED with any team or sporting organisation. We create for the love of the sport and for people who share our passion. If any of our listings are mistakenly found to be in breach of any trademarks or copyright we will make immediate amendments where needed to the exact specifications of the request.
Our Customers Rate Us
4.7 out of 5
"Saw the advert a few times on social media and then thought I'd take a look. Easy quick service. Delivered within a few days. Website very easy to navigate as well. If I ever need unique football items again I will definitely revisit."
- Daniel Bayfield