PERSONALISED Fantasy League Football 2023-24 FPL Team Print
We are now taking pre-orders for the 2023-24 season, however, prints can not be designed until the end of the final game week (May 19th 2024)
---
There are only two things that matter in life - Family and Fantasy League ;)
From the constant score app refreshes and asking 'who got the assist?' to trying to second guess Pep's ever-changing line-ups, FPL is serious business!
Of course, that #1 overall rank is the Holy Grail but let's be honest the 'mini-leagues' is where the main competition is at! Are you one of the hero admins who make this possible? Are you looking for that killer prize to make your league THE ONE to be a part of? Well, what better way to incentivise your players than by making one of our custom FPL team prints your gold medal and help capture that victorious squad in all its glory forever!
Each print showcases every player used throughout the season (Your starting 15 plus every transfer, wildcard and free hit pick) in one of our digitally illustrated home kits and can be personalised with your name, team, league title and overall points. 
Please note:
We can currently only provide prints based on the official FPL game (Standard and Draft)
It's really easy;
1. Choose whether you want your print unframed, framed or digitally delivered from the selector.
2. Choose your quantity
3. Add your selection to cart and proceed to checkout.
4. After the final game week (May 19th 2024) we will be in touch via the email address you used when ordering to gather the following information:
The URL of the team you want us to base the print on
For Example: https://fantasy.premierleague.com/entry/6163/history
We also need the title of the league you want us to feature and we will do the rest.
For Example: The League of Very Ordinary Gentlemen
What's the maximum number of players I can include?
We have the capacity to include up to 100 players on each print. However, we will try our best to accommodate teams that are larger than this.
Which kits do you use to represent each player?
We will use this season's home kit from their respective team to represent each player in your squad. Please note no team badges or manufacturer logos are included on the kit designs.
Which information do you display under each player kit?
We display the player's name and position. We can include player points if provided by the customer.
I have ordered a PDF Digital version, when should I expect my download?
Although delivered digitally, the time taken to create your print is no different from a physical version. You will receive a second email 4-6 working days after the initial confirmation on ordering with your print-ready file.
For all other questions please check out our FAQs page.
A3 PDF Digital Download - 30cm x 42cm / Print Ready - CMYK / 300dpi
A3 Unframed Print - 30cm x 42cm
A3 Black Framed Print - 40cm x 50cm (UK Only)
A3 White Framed Print - 40cm x 50cm (UK Only)
Printed to order, on premium quality 290gsm pearl paper stock.
Frames come with ivory mount & clear perspex front protection.
Please note: We unfortunately cannot ship framed prints outside of the UK, for overseas orders please choose one of the unframed options.
Today we are offering FREE DELIVERY on all UK MAINLAND orders over £50. Please use the code FREEDELIVERY50 at checkout!
For UK orders please allow 4-6 working days for your product to arrive. Need it quicker? Express shipping is also available.
Not in the UK? Good news! We ship worldwide, our delivery prices and times are shown at checkout.
Please note, to provide added protection for overseas orders our packaging differs from the image shown. The buyer is also responsible for any import taxes and/or customs charges imposed by their country, if applicable.
Further information can be viewed via our Delivery Page
The artwork we produce is UNOFFICIAL and NOT AFFILIATED with any team or sporting organisation. We create for the love of the sport and for people who share our passion. If any of our listings are mistakenly found to be in breach of any trademarks or copyright we will make immediate amendments where needed to the exact specifications of the request.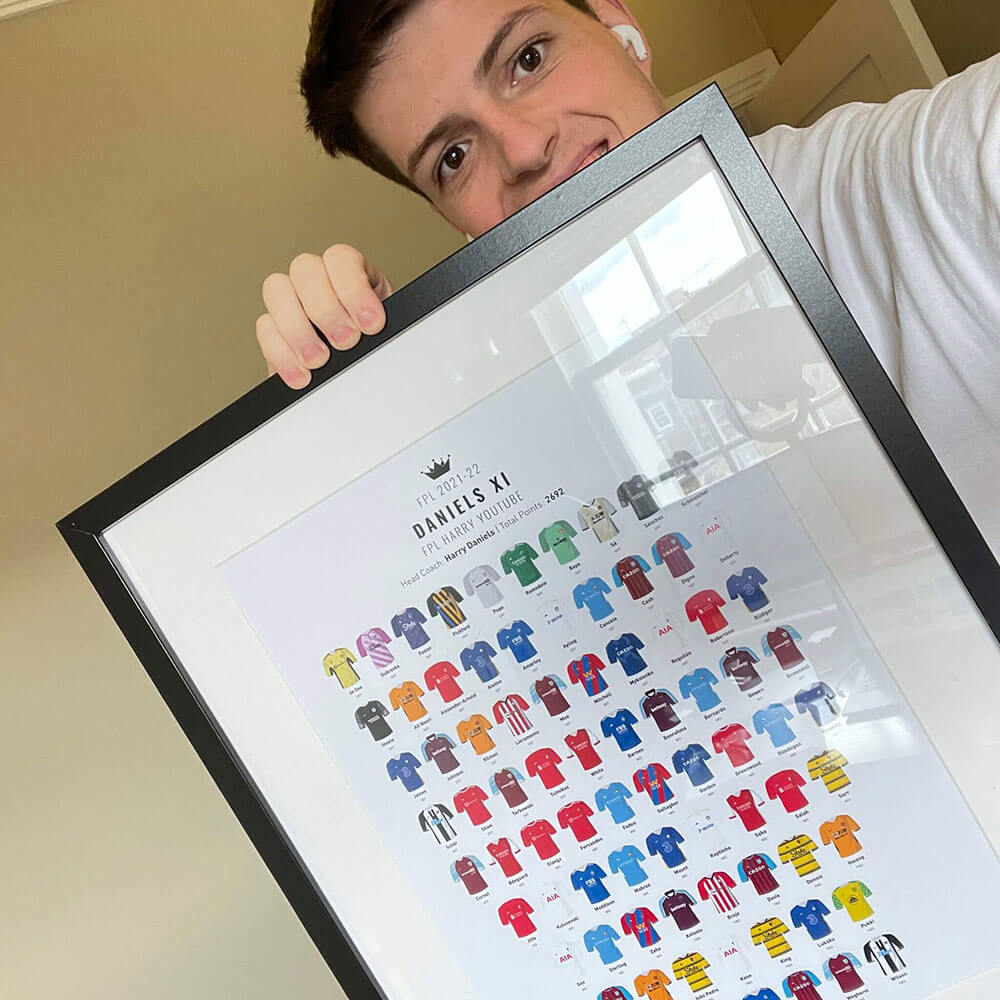 Our Customers Rate Us
4.7 out of 5
"Saw the advert a few times on social media and then thought I'd take a look. Easy quick service. Delivered within a few days. Website very easy to navigate as well. If I ever need unique football items again I will definitely revisit.
- Daniel Bayfield"