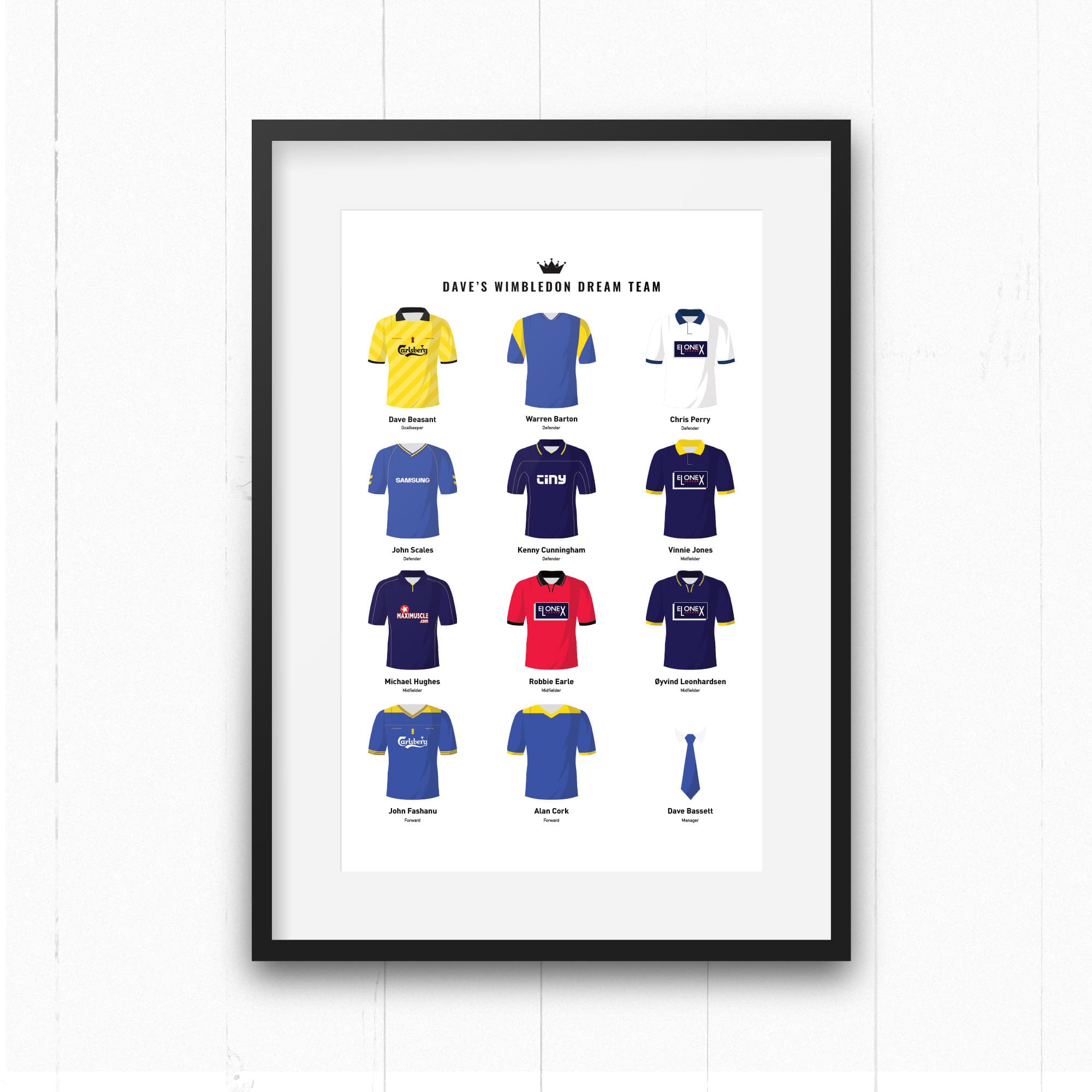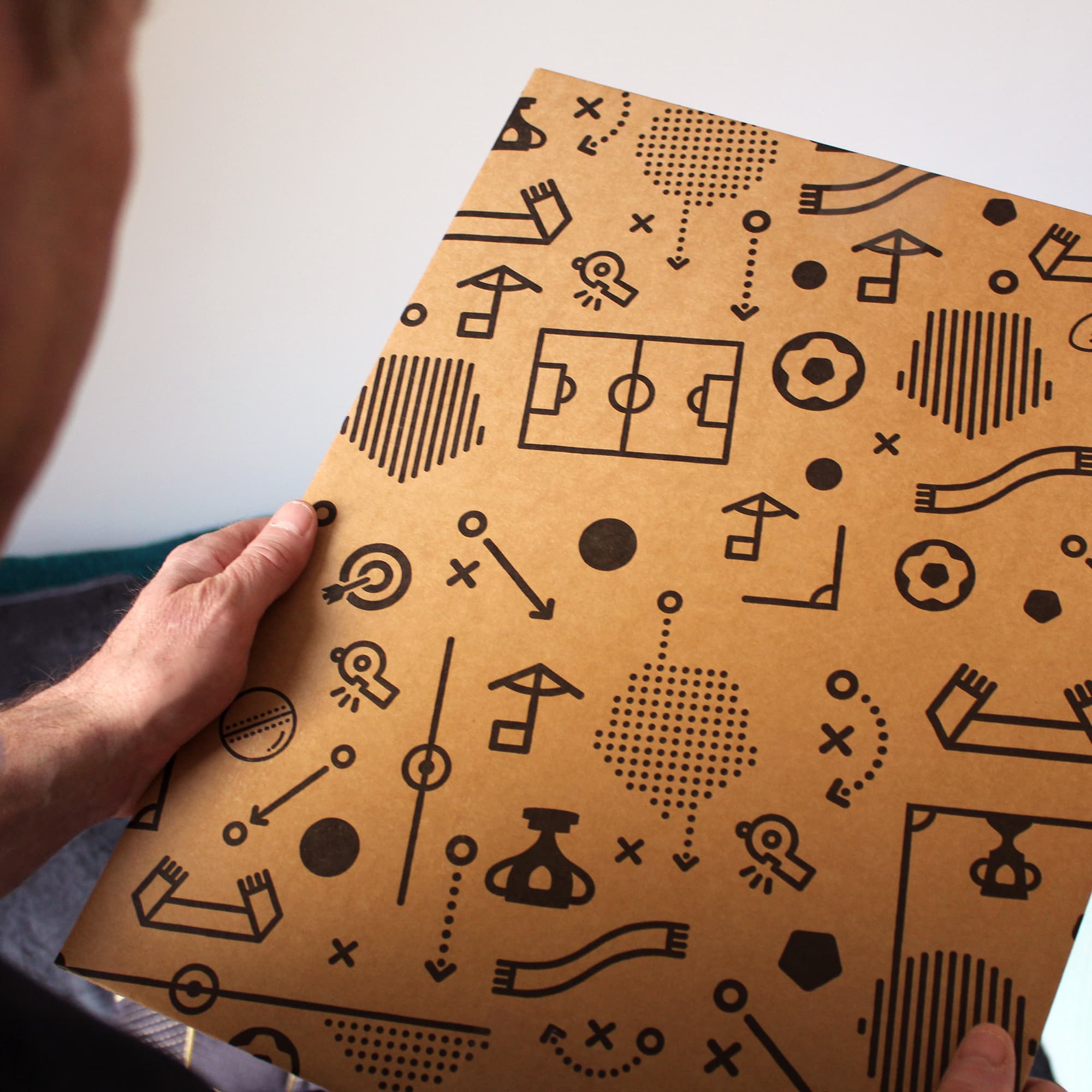 PERSONALISED Wimbledon Dream Team Football Print
If you had the chance to pick the greatest ever Wimbledon team, who would you choose? Would it be Jones in Midfield? Scales at the back? Of course, you'd have Fashuna up front, wouldn't you?
Now's your chance to do just that with your very own personalised print either to hang on your wall or give as a very special gift.
It doesn't have to be your Wimbledon dream team, you can personalise your print for anything you want, maybe to commemorate your first ever live match or to mark a very special game.
Each player you pick will be represented by one of our very own digitally illustrated classic jerseys, exclusive to Good Team on Paper.
It's really easy:
1. In the box, please include the eleven players that will make up your personalised team and a manager. From this, we can then select an iconic shirt to represent each player or if you prefer you can choose them yourself, just put the year the kit was used next to the name. We can also design away strips.

Please don't forget to add your own personal message, but please bear in mind that space is limited. As a rule of thumb keep it to around 4-6 words, for example, 'Dave's Dream Team'.
2. Choose whether you want your personalised print framed or not from the size selector.
3. Tick the box if you require a proof before we print.
4. Choose your quantity
5. Add your print to cart & proceed to checkout.
6. Let us do the magic & wait for the postman... It won't be too long.
Product Sizes:
A4 Unframed Print - 21cm x 30cm
A3 Unframed Print - 30cm x 42cm
A4 Black Framed Print - 31cm x 38.5cm (UK Only)
A4 White Framed Print - 31cm x 38.5cm (UK Only)
A3 Black Framed Print - 40cm x 50cm (UK Only)
A3 White Framed Print - 40cm x 50cm (UK Only)
Printed to order, on premium quality 290gsm pearl paper stock.
Frames come with ivory mount & clear perspex front protection.
Please note: We unfortunately cannot ship framed prints outside of the UK, for overseas orders please choose one of the unframed options.
Today we are offering FREE DELIVERY on all UK MAINLAND orders over £50. Please use the code FREEDELIVERY50 at checkout!
For UK orders please allow 4-6 working days for your product to arrive. Need it quicker? Express shipping is also available.
Not in the UK? Good news! We ship worldwide, our delivery prices and times are shown at checkout.
Please note, to provide added protection for overseas orders our packaging differs from the image shown. The buyer is also responsible for any import taxes and/or customs charges imposed by their country, if applicable.
Further information can be viewed via our Delivery Page
The artwork we produce is UNOFFICIAL and NOT AFFILIATED with any team or sporting organisation. We create for the love of the sport and for people who share our passion. If any of our listings are mistakenly found to be in breach of any trademarks or copyright we will make immediate amendments where needed to the exact specifications of the request.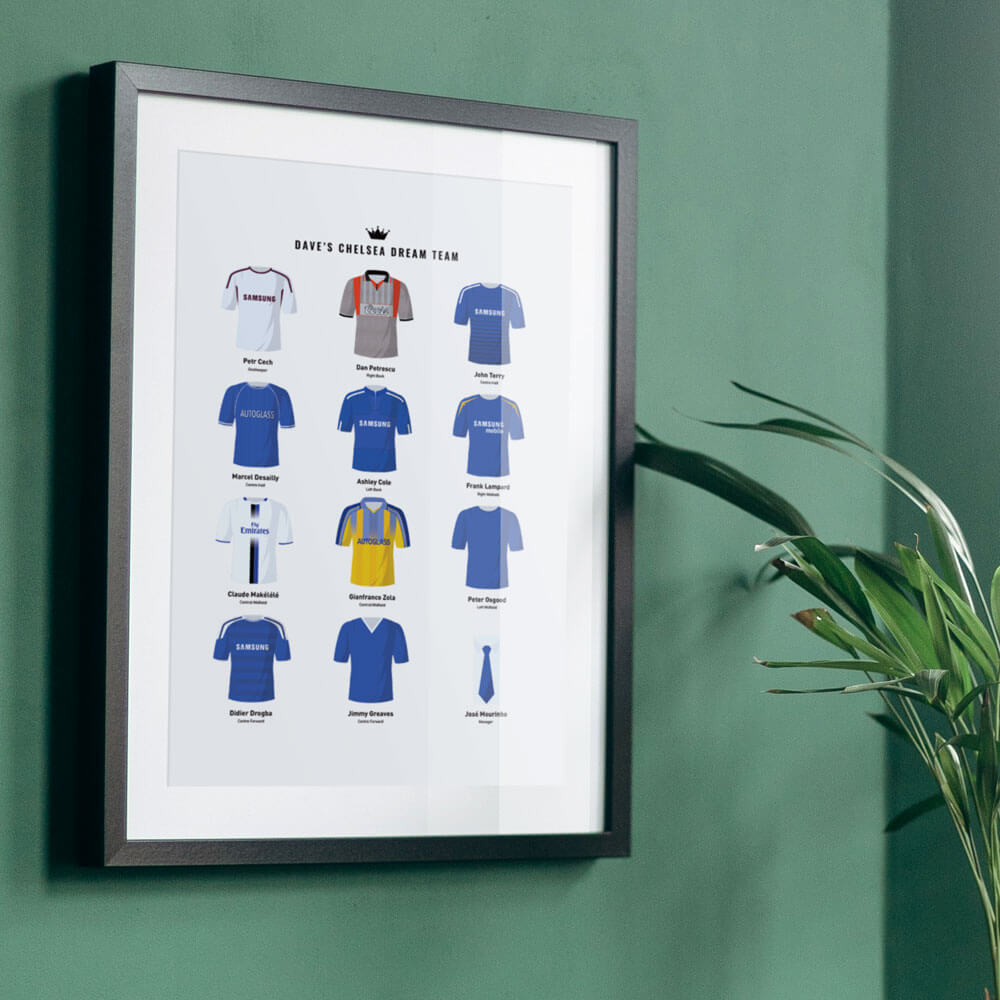 Pick Your Team
Ever wondered who would make your greatest team? Imagine players from any era playing alongside each other. Now you can, and get it printed.
We'll Do The Work
All you need to do is leave the player names, we'll research their positions and the kits they played in. Want specific positions or kits? Just let us know.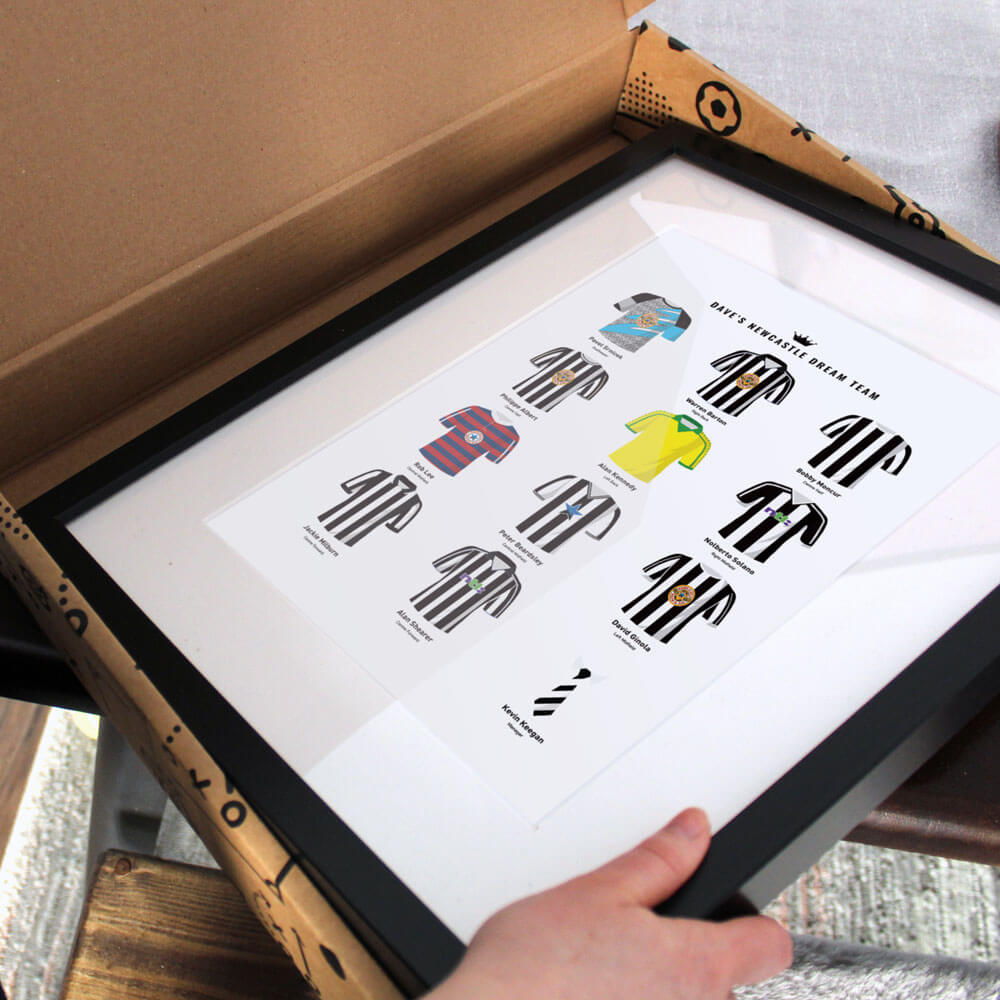 Ideal Football Gift
Our personalised team prints make the perfect gift for lifelong, or new football fans, personalised to them to make it that extra bit special.
Our Customers Rate Us
4.7 out of 5
"Wow, wow, wow! I was blown away with the personalised Coventry City print. The patience shown by Good Team on Paper with the translation of my requirements to the finished print was very much appreciated. The quality and detail of the finished kit images in the print was amazing. Thank you so much for such a lovely print and for the memories of those Coventry City elite league years and my favourite players of that era it brings to me when I now look at the print. I can't thank you enough."